We will work hard on your lift truck needs. We offer new and pre-owned units.
Listed below is our current inventory of narrow aisle trucks.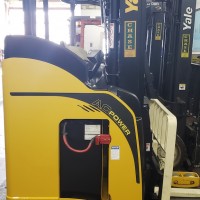 Yale NR0404DANS24TE091 Stand Up Single Reach, 4000Lb Capacity @24″ Load Center,95″ Lowered Mast Height, 210″ Max Fork Height, 42″ Forks, Fresh New Paint, New Poly Load Wheels, New Rubber Drive Tire, New Swivel Casters, New 24 Volt 3 Phase 880 Amp Battery Charger, 80% Residual 24 Volt 875 Amp Battery, Fork Side Shifter, Load Back Rest, Tilt Control, A C Technology, Self Diagnostics, 90 Day Warranty on Battery & Chassis, 1 Year Warranty on Charger.
1982 Toyota 3 Wheel Electric Sit-Down 3500lb Capacity, 151″ Max Fork Height, As Is Condition, 2 to 3 Hour Battery 24 Volt, With Original Battery Charger.